"Ignoring online marketing is like opening a business but not telling anyone."
WISPs provide an essential utility for underserved populations. With the rise of 5G and the continual (albeit slow) expansion of tier-1 operators pushing independent WISPs further to the frontier, competition is high. To grow your WISP business, it's essential to stand out.
In order to provide real amenities, a local ISP needs subscribers, and offering quality service just isn't enough for the vast majority of these businesses. Marketing success is essential in setting your ISP apart.
We've developed a list of strategies that are guaranteed to help grow your WISP business.
1) Videos
One of the biggest issues WISPs face in growing their business is recognition. Deep down, most of the population doesn't know what a WISP does, or how they are different from a tier-1 provider. 
A simple explainer/introduction video can be the key to bridging that gap and gaining subscribers.
You'll come across as personable and engaging, eager to assist and to offer a different wireless experience. You can also use video to leverage testimonials from current clients.
2) Facebook
It's no surprise that 65 million businesses use Facebook pages, and 4 million advertise on the platform. As a WISP, your expertise is around providing quality internet on a local scale. You're good at what you do, so why not let another expert do their thing?
Facebook has, for good or ill, a ton of personal information about its users. As such it's able to provide them with hyper localized, specific ads. Advertising your company on Facebook is a great way to highlight your offerings and availability in the right coverage area.
Even if you're just starting out and don't yet want to spend money on ads, posting on local community groups and having a Facebook page for your company is a great way to get your name out.
Your customers use Facebook, and these ads can be specific and personable, just like your local ISP. These campaigns are easy to set up, and allow for wonderful customer engagement.
3) Lawn Signs and Door Hangers
It might sound old-fashioned, but lawn signs work. Simple, easy to read signs increase awareness of your brand and the services that you offer. Since you're going to be working onsite anyways, you may as well advertise what you're up to.
Having a tech put hangers on neighbors' doors during new installs is a great way to increase interest and showcase your more obvious offerings. 
The clear benefit here is increasing customer density in an area. When you've got one install in a neighborhood, increasing participation is a great way to lower your cost and gain easy subscribers. 
You can also pre-plan this sort of campaign with flyers, offering service based on a percentage of neighborhood signups to get people talking before you move in with construction. Going door to door isn't unheard of for tier-1 operators, why should it stand in the way of WISPs starting out?
4) Word of Mouth
A good word from a trusted source works wonders, so it's important to spend time encouraging this method of marketing. 
Loyalty programs and referral bonuses are a great way to grow a WISP business. Consider offering:
A referral credit on the next monthly bill

Discounts and program tiers for family signups

Discounts or services rewards for positive Google reviews
This advertising could run you $10 or $20, but the effect has real potential. It's easy to do, works at any level, and provides overwhelming belief in your company. Considering that you're using your already happy customers to promote your business, there's no downside.
You work hard to provide quality service, let it speak for you.
5) Trade Shows and Organizations
For any ISP, joining WISPA is a great way to network, gain new insights, and learn from others who have gone through your struggles. WISPAPALOOZA is an event that offers unparalleled opportunities for new WISPs with technology demos, educational seminars, and networking with top members of the community.
Joining an association of other WISPs and attending trade shows gets your name out and can increase your professional credibility. A membership will keep you abreast of news that affects the way you do work. Professional contacts gained through this group can lead to incredible business opportunities.
Similarly, interacting with trade boards and local chambers of commerce is a great way to position your business in the local sphere. Being present at town hall meetings shows that you and your company care about the community.
6) Plan For Disaster Recovery
Your customers will remember when you help them, especially in times of need.
Having standby power and recovery plans can go a long way in providing amazing customer service that will set you apart. Extended outages can happen, and if you develop a support flow that you ensure everyone on your team follows, it can reduce churn and showcase the care you bring to the industry.
Consider outsourcing a call center for those customers lost in the middle of the night. A comforting voice on the other end of the phone shows that you want to retain the customers you work hard to service. 
This is a rare opportunity to come in ahead of tier-1 operators. When you're local, and reliable, your subscribers will have peace of mind and won't think twice about sticking with you and recommending your business to their friends and families. 
Real support makes a real difference.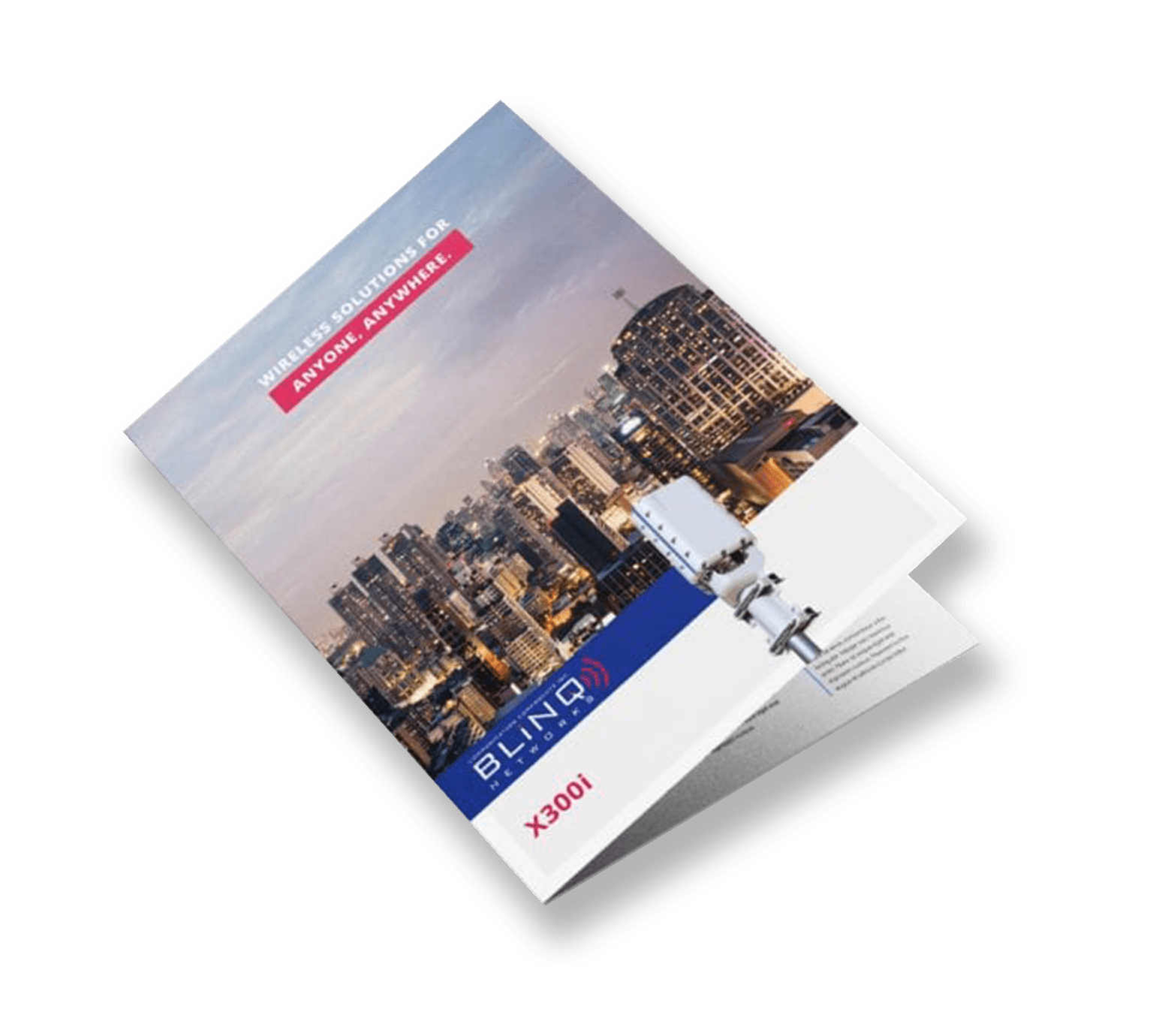 Spec Sheet: The X-300i
The perfect solution for inside-out and outside-in coverage deployment.
Unlock Now
Grow Your WISP Business
Getting your ISP off the ground can be challenging, but with the right tools and techniques you can ensure steady growth. The cold unfeeling response of Tier-1 operators can be used as a powerful contrast to your engaging, personable experience. Beyond these marketing techniques lies the primary goal of any WISP: providing quality connectivity at a profit.
BLiNQ's 5G ready devices allow you to push connectivity further and to provide a higher caliber of network capacity than ever before. Devices like the FW-300i and the X-300i are great for any growing WISP. They offer demand-driven capacity, and coverage where it's needed. 
When you're offering real connectivity, you'll get real results from satisfied customers, and above all, that's what will guarantee the growth of your business. 
Check Out BLiNQ's Products!