When schools shut down at the beginning of the pandemic, we saw how the education sector immediately tried to adapt to remote learning. Classes were held online via video conferencing tools, assignments were submitted online, and other virtual means such as interactive learning were utilized. These adaptations are only the beginning of the future of education.
A key concern in the month of September for this year is children returning to schools during a pandemic, or university students getting back into the classroom.
Current Digital Transformation in Education
Digital transformation is at its peak this year. According to a study done by Fujitsu in 2018, 68% of the responders believe that the future will involve people and artificial intelligence working collaboratively. A common misconception about digital transformation is that technology plays a key role. Yes, it is true that technology plays a role in digital transformation, but the fundamental of it is how one is implementing technology to transform.
Take this pandemic as an example. Many organizations predicted digital transformation in the coming years. However, when the pandemic hit, we were forced to digitally transform by working from home. We did this by utilizing existing technologies to adapt to the current scenario. Granted the journey has been in haste with some bumps along the road, overall it has been a big leap towards digital transformation. Now that businesses have adapted and are slowly transforming digitally, we will begin to see this transformation trickle into other sectors as well, just like in healthcare and education.
Smart Classrooms
While we are seeing only a small percentage of futuristic education being implemented due to the pandemic, there is so much more potential in this sector. According to Statistica, the e-learning market worldwide is forecast to surpass 243 billion U.S. dollars by 2022. With evolving technologies such as artificial intelligence and virtual reality, we are looking at the possibility of smart classrooms as early as two years from now.
A smart classroom is a digitally equipped classroom with a huge variety of teaching and learning methods using technology. It could be something as simple as incorporating audio and visual components to a lesson, which many classrooms are doing these days (and have done so in the past as well). It could also be something as advanced as performing a practice medical surgery using virtual reality. Additionally, a smart classroom helps the teacher through technology as well. There are apps that have been designed to assist the teacher in lesson planning or even giving them the ability to save an online taught class for future reference.
What are the Advantages of a Smart Classroom?
Having a smart classroom can have its pros and cons. The biggest pro is remote learning, which is a big ask for the current world scenario. We are already at the threshold of smart education with the online classes we have going on today. Pre-COVID, we saw some uses such as pre-recorded classes for students with clashing timetables, or some forms of interactive learning.
Some universities also use artificial simulations for engineering subjects such as automotive or aerospace. Students can use artificial intelligence to simulate their models of various automotive components, allowing them to test out motor parts without actually having to build them. Once the simulation passes a test, they can go ahead and build a prototype. This saves them time and resources, making the learning process far more efficient.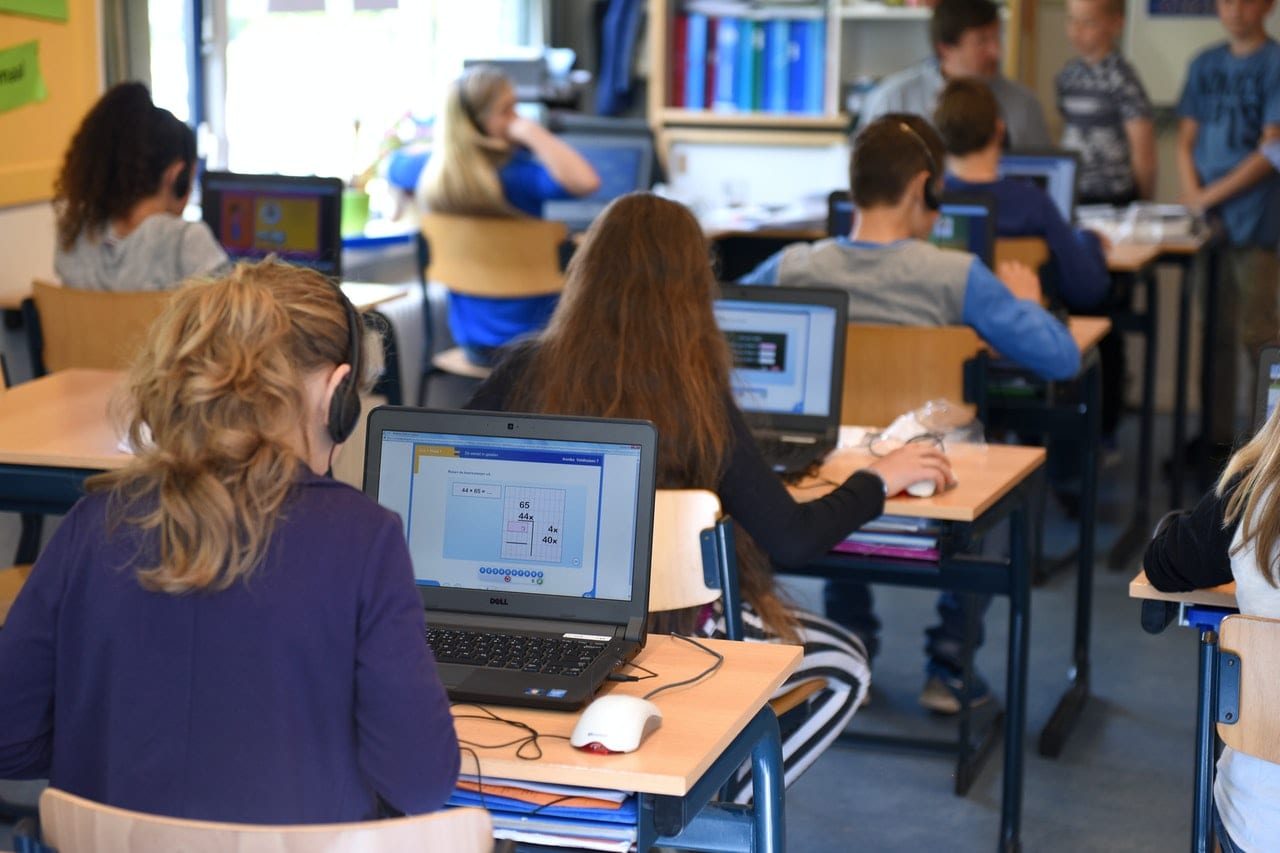 Are there any Disadvantages of Smart Classrooms?
Many parents and university students may be worried about the collaborative and social aspect of smart classrooms. With most of the communication being dependent on technology, there could be a barrier in communications. However, some experts suggest that working in an environment that involves interactive learning through technology actually encourages collaboration through discussion and group projects.
The one major disadvantage of smart classrooms or technology taking over the education sector is limited internet access for students living in rural areas. There are many challenges that are present in providing internet to rural areas such as physical barriers (for example, hills) or limited growth and resources.
However, there is a solution to this problem. CBRS – Citizens Broadband Radio Service – and Private LTE offer customization options so that you can adapt your network deployments to your needs. CBRS allows cost-efficient coverage to rural areas. Educational institutes can leverage CBRS to provide high-speed wireless services across campus infrastructure and even for remote students by placing CBRS-certified CPE. This can specifically turn out to be an advantage for schools and universities as CBRS sharing rules allow them to reserve their own dedicated spectrum to deploy LTE networks.
Educational institutions require a massive capacity, which requires high-speed internet that is cost-effective. A product that addresses bringing the massive capacity required by education institutes and LTE speeds together is BLINQ Network's FW-300i. It is a solution for rural broadband which is cost-effective, seamless, and dynamic, which is specifically designed to meet dense urban broadband connectivity needs.
Are Smart Classrooms Actually the Future of Education?
We are growing digitally and when we are able to tackle the problem of internet access for remote places, smart classrooms can certainly be the future of education. Although we are looking at remote education right now, it is not necessarily the future of education. Smart classrooms can also be incorporated while students are present in the classroom through augmented reality, artificial intelligence, and virtual reality.
It is important to note that smart classrooms can be implemented without these advanced technologies as well. Circling back to the beginning of this discussion, digital transformation happens depending on how we use technology. Some players in the education sector use technology that is easily available to them, such as computers, to create simulation software on desktops and teach students through that, which is also a form of a smart classroom. It all comes down to what technological resources we have in hand and how we can use to them to make a smart environment. With the evolution of technology, different sectors will continue to transform and become "smart" in their own ways, including the education sector.