If there was ever a time for people to understand the need for rural internet as crucial infrastructure...well this is it.

— Sara Hewitt (@sborch03) March 25, 2020
Internet access has evolved from a luxury a few can afford to a human right. 
It's glaringly clear now, in light of the coronavirus outbreak, how essential internet availability is to all operations of daily life: economic, social, and political.
Yet, rural communities remain underserved and overlooked when it comes to broadband internet services.
As social distancing measures have been implemented around the world, major telecom companies have lifted data caps and offered extra data to meet the increase in demand for urban home internet subscribers. 
But rural internet users are still left behind. Not only is coverage spotty, access scarce, and speeds abysmal, but relief on data caps and overage fees is denied to rural customers because they use LTE sticks and mobile hotspots, one of the very few options available to them. 
Rural internet life problems: Speed was slowed down from satellite service because we hit data cap.
New billing cycle started today to bring back speed.
It's pouring rain and messing with the service.
Currently, toggling between phone tethering and satellite when rain slows.

— Elizabeth Stephens (@lizziec22) March 19, 2020
With your data cap on cellular services in extremely rural areas I can't even upload a 1.5MB .png screenshot to @Twitter. It took over 2 hours on @Facebook. You can't do this to people right now, it's criminal. Remove the datacaps now!

— Dave Ravicher (@Whtapl) March 18, 2020
According to data from the Federal Communications Commission, 39% of people living in rural areas in the United States lack access to high-speed broadband, compared with just 4% of urban Americans.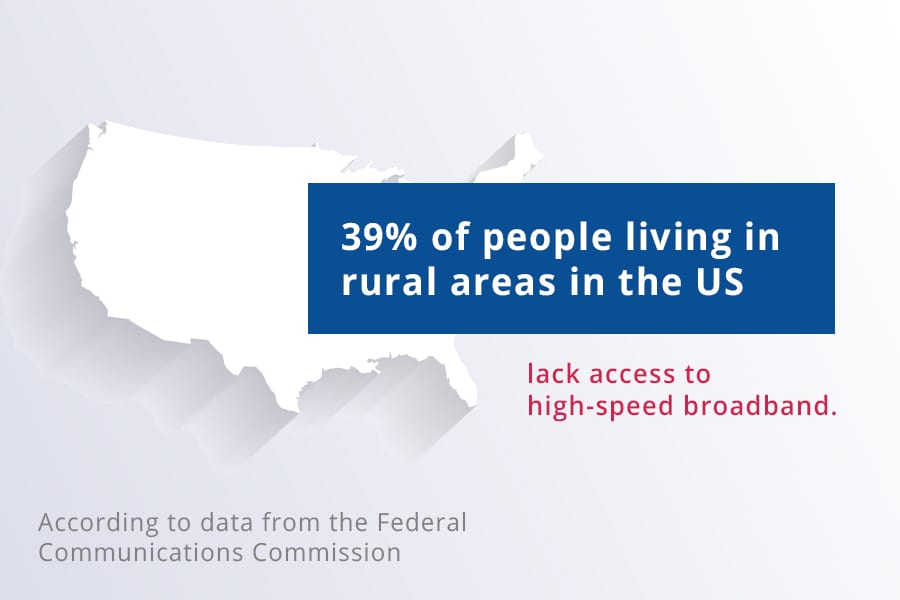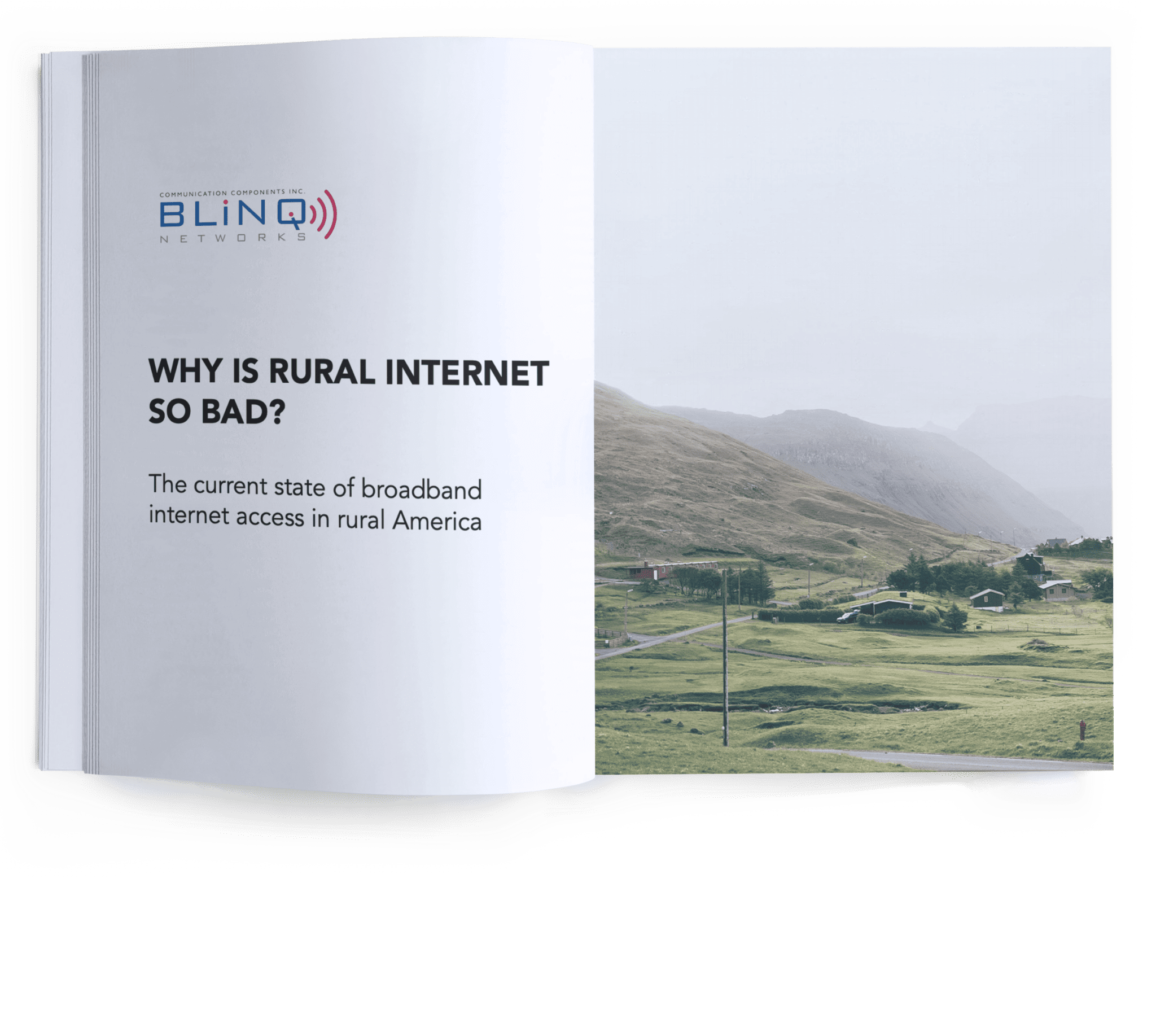 Infographic: Rural Internet
A visual compilation of our 3 part series on rural broadband.
Unlock Now
In addition, available rural internet options are slower and more expensive than services offered to urban and suburban customers.
So why is high-speed broadband so scarce in rural areas?
Well, there are a variety of reasons.
1. Building broadband networks is incredibly expensive and difficult.
Installing fiber, which is the main contender in the broadband scene, is pricey.
It's also logistically difficult in areas that have harsh weather conditions or uneven terrains to put the cables in the ground.
2. There aren't enough potential customers in rural areas to entice Internet Service Providers (ISPs) to invest in building those networks.
Major ISPs are always concerned with maximizing their profit. So they overlook more sparsely populated locations. 
Even when rural customers do reach out to ISPs, they offer them cellular options such as LTE Sticks and MiFi, which usually means limited data at higher prices.
3. Internet service mapping policies by government agencies are unclear and inaccurate.
The FCC requires a form to be submitted by service providers to report on coverage areas and speeds. However, these forms aren't double checked and usually paint the situation in a better light than it actually is. For example, ISPs declare that an area is fully served with broadband even if just one home in a census block has service.9
Having such a dissonance between data and reality makes it difficult to allocate resources to the places and people that need them most.
4. Laws and regulations make it difficult for independent and local efforts in network building to work.
While communities and towns have tried to overcome these obstacles by building and deploying their own networks, the FCC claims that community broadband poses a threat to free speech.
So, they support laws that hinder these efforts. The FCC sides with ISP lobbyists, offering them subsidies and tax breaks, which are usually framed as an incentive to develop networks in remote and lower-income areas, but that's never stipulated explicitly.
5. Available rural internet options are riddled with problems of reliability, price, and throttling. 
DSL, Satellite, dial-up, and hotspots are the main alternatives for rural internet users. However, those services usually frustrate customers and are barely serviceable since they are slow, expensive, and spotty.
This highlights the need for alternatives for internet access in remote rural communities.
One very successful example is fixed wireless access. Claude Aiken, CEO of the Wireless Internet Service Providers Association (WISPA), says "it's a cost-effective, reliable and affordable solution for rural America. It has tremendous potential to provide rural America with the service that it needs and to do so quickly."
Fixed wireless solutions allow service providers to extend their networks to unserved and remote rural areas.
WISPA estimates that there are about 2,000 companies providing fixed wireless broadband access across all 50 states, serving an average of 1,200 customers each. 
While telecom companies and politicians advocate for and claim that they're working towards universal access to broadband internet, for now, this is far from reality. 
But we need fast, efficient solutions to providing internet access and leaving no one behind in difficult times.
That's why WISPs play an essential role in bridging the digital divide and bringing reliable, affordable, and fast internet access to underserved rural communities. And we need to support them and invest in them now more than even.
BLiNQ Networks helps independent service providers, telcos, and towns bring cutting-edge fixed wireless technology and high-quality services to their customers. Learn more.